POWER ELECTRONICS - A GROWING TREND TOWARDS CERAMICS AND HEAVY COPPER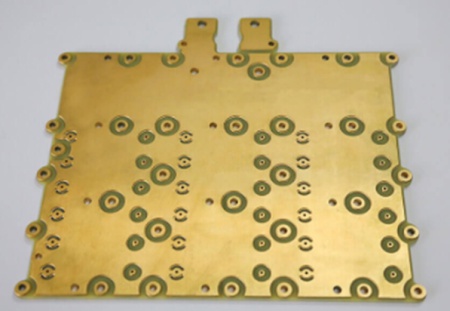 At DK-Daleba, we are continually working with our clients to explore specific and innovative PCB designs that deal effectively with the requirements and increasing demands of power electronics products.
Latest developments of EV power applications are seeing Silicon Carbide chips running at approximately 800v+ and 800 amps. The resulting operating temperatures are 200°C plus making the use of ceramics, with their high temperature capability, and ideal PCB substrate choice. Equally for EV the associated drive electronics are likely to be in Heavy Copper.
Heavy Copper
The majority of global PCB manufacturing still resides in low-voltage/low power applications. Typically, incorporating a copper weight range up to 3 oz/ft2. At DK-Daleba we are seeing a growing demand for heavy copper, typically classified from 4 oz/ft2 to 20 oz/ft2. This particular PCB manufacturing process is generally now becoming quite usual in the desire for more robust applications!
What's beyond heavy copper?
In the case of a recent project for a Bus Bar for a motor drive, it can only be described as 'Extreme Heavy Copper'. We manufactured to 57 oz/ft2. Quite unusual, but something we suspect will become increasingly more common in power electronics. The manufacturing process consisted of:
1.00mm Copper Base Plate (28.5oz)
1x Prepreg type = EM8271 106
2.4mm Core H/H EM8271 (Etched off copper)
1 x Prepreg type = EM8271 106
1.00mm Copper Base Plate (28.5oz)
A manufacturing extreme, you might say. However, the application reduced the final product size by incorporating multiple copper weights on the same layer of circuitry. Further benefits came through increased endurance to thermal strains, increased current carrying capacity and the mechanical strength at connector sites, and inside PTH holes. Overall it was the perfect solution for our client and a very typical example of how we actively push our manufacturing capabilities to fulfil customer needs.
Manufacturing for the future
The DK-Daleba engineering department continually works on PCB solutions for our clients. We have certainly seen a spike in requests for heavy and extreme heavy copper boards, albeit the engineering teams work isn't just reserved for heavy copper alone. They work on numerous projects, including the increase in demand for Ceramic PCBs solutions. For power electronics the heat capabilities of ceramics are a must and easily achievable when you consider temperatures of 1000°C are used in their production.
At DK-Daleba, we are undoubtedly well-known for our extensive PCB manufacturing and stockholding capabilities. We suspect we are less known for our engineering and innovation in this exciting and continually evolving and expanding marketplace. That is something we plan on communicating more, keeping global technology community up to date with new ideas and PCB innovation.
Date : 13-03-2020