DK-Daleba invited to present our Power Electronics PCB expertise at IMAPS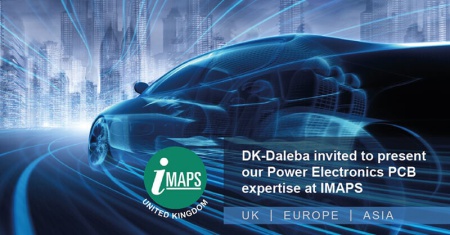 2020 has so far demonstrated how most industries need to adapt their communication methods to keep everyone informed and up-to-date with the latest technology and trends.
The Microelectronics sector is no different. The cancellation of the major UK event IMAPS (International Microelectronics Assembly & Packaging Society), means the discussion is now being taken online in the form of 'conference style' webinar. DK-Daleba is very proud to have been invited to contribute our expertise in Power and High-Temperature PCB manufacturing, which will be of great interest to an expert audience including the EV (Electric Vehicle) market sector.
Demonstrating innovation
Our forthcoming presentation to take place on the 28th May will involve our resident expert Thomas Bissett. In the presentation Thomas will explain how DK-Daleba are continually working with our clients to explore specific and innovative PCB designs that deal effectively with the requirements and increasing demands of power electronics. Specifically, with the removal of heat and handling of high temperatures. The?presentation will detail the options, parameters, and specifications we work to for both Ceramics and Heavy Copper.
Robust solutions that provide longevity
The latest developments in EV power application demonstrate the need and capabilities of materials like Silicon Carbide chips. Silicon Carbide Chips can operate at high temperatures (more than 200°C) and run at approximately 800v+ and 800 amps. The resulting solution is to increase efficiency and provide the longevity demanded by the industry.
Equally, for drive electronics, Heavy Copper is now a serious contender. Typically, standard FR4 copper weights are commonly utilised in low-voltage power applications, but in recent times we are seeing a growing demand for heavy copper. Heavy copper, classified from 4 oz/ft2 to 20 oz/ft2, and now becoming a desirable choice in the demand for the more robust applications.
The sharing of knowledge and expertise is essential for the sector, and IMAPS should be commended for their program of this online event that will ensure that desire for knowledge and innovation is still shared effectively. We want to thank IMAPS for their invitation and very much look forward to being part of this important event.
Date : 19-05-2020