DK-Daleba presents to over 130 industry professionals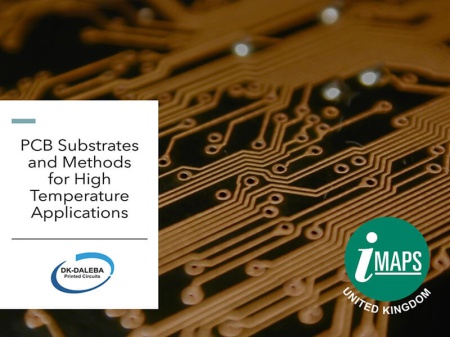 At the end of May, Thomas Bissett presented to over 130 delegates attending the online Power and High-Temperature Conference. The IMAPS-UK online conference had been organised to support the electronic packaging community in these unprecedented times. It focused on challenges and solutions the industry faces as part of the electric revolution.
As well as Thomas's presentation, which focused on DK-Daleba's PCB expertise, other speakers included Innovate UK, Nottingham University and Microchip Inc. It was an excellent opportunity for experts right across the spectrum of power electronics to communicate new ideas and innovation that is in use now and in development for the future.
A chance to demonstrate expertise
For Thomas and our team, it presented an opportunity to demonstrate our work in IMS boards, heavy copper and ceramics, exampling some of the past projects and informing the conference attendees about the effectiveness of these materials in high-temperature applications.
Since the conference, we have seen very positive feedback and interest from delegates in attendance, all wishing to learn more and discuss their applications. It was a positive experience, and in Thomas's words; "the opportunity to talk to over 130 delegates across the spectrum of power electronics and EV was a great experience. I very much hope we have continued to demonstrate our expertise and market leadership where IMS, heavy copper and ceramics are concerned."
If you weren't able to attend, a download of the DK-Daleba presentation and the other organisations that took part are available here.
We would very much like to thank IMAPS-UK for their hospitality and invitation to present, our fellow presenters and the delegates for taking such a keen interest.
Date : 02-06-2020